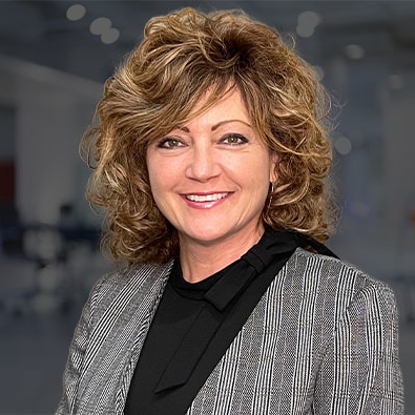 Frankie DeWitte Logan
Paralegal
Bio
My name is Frankie DeWitte Logan. I am a native Missourian, raised in a small farming community an hour north of Kansas City. I moved to Houston, Texas in 1993. I returned to Missouri in early 2020 and I have been employed with The Reynolds Law Firm since May of that same year.
While living in Houston, I had the good fortune to work as a family law Paralegal for a few of the finest law firms in Houston. My experience as a Paralegal has included a plethora of divorce cases from simple divorces with zero property while employed by a solo practitioner, to working on a team representing clients with complex and high asset estates. Additionally, I received my board certification from the Texas Board of Legal Specialization in Family Law. My experience as a family law Paralegal spans twenty-six (26) years and counting.
I also somehow found the time to raise four amazing children. And I endured the divorce process in my personal life.
My love for horses and country living had long been tugging at my heartstrings, so when my youngest child left the nest – I knew it was time for a change and I returned to my roots.
These days I spend my time helping clients – like you…. I can professionally and personally assure you of one thing – it does get better! When I am not in the office, I am riding horses, taking long walks in the woods with my husband (yes, married again and incredibly happy) and our German Shepherd, visiting my grown children, spending time with my "bonus and blended family" and enjoying farm life – which I missed tremendously!
I feel very fortunate to have found my way to The Reynolds Law Firm because the firm maintains the atmosphere of a smaller firm, focusing on the high value of one-on-one client attention, while still providing a staff that is diverse and deep enough to offer quality advice, sound experience, and a great reputation. It's a great balance.
I was asked to put together some helpful tips for potential clients and although I have many more than listed here, these are my top tips:
Once you realize that divorce is on the horizon, you have probably asked yourself - what do I do first? I would suggest you go right to your social media accounts and if they are not already on private – make them that way and then do NOT post anything that could potentially harm your case. If you are unsure about this – ask your legal team, they would be happy to advise you. This also goes for texting and/or emailing and/or phone calls with your soon-to-be former spouse. ASSUME everything to do and say will be examined during the divorce proceeding and this guideline should help you make good decisions to avoid further conflicts.
This is also a most paramount time to change all your passcodes to accounts unless you have been enjoined from doing so. Each purchase you make, and each withdrawal of funds retains the potential for being scrutinized – so just be warned.
There are just two rules:
#1 rule – DO NOT PANIC!
#2 rule – see Rule #1.
Attorneys and Paralegals handle hundreds of cases and each case is detail specific, even if some of the facts are similar to a case from the past. For this reason, the best and biggest help you can be as your own advocate is to be open and honest about what has transpired. This does not mean each bit of minutia since the date of marriage, but we definitely want the important points because this helps us build the case foundation. Note – getting a dirty look from your new Mother-in-Law at the wedding reception does not count!
It is important to make good use of your time with your legal staff. Paralegals are a great source of information – BUT NOT LEGAL ADVICE! We are prohibited from giving legal advice and you have paid an experienced attorney, who is the Captain of the Divorce cruise, so let the attorney help you navigate. Attorneys are very busy, but each client gets his or her own share of attention but at the most optimal time. This is where you can use your Paralegal to your advantage. If you have an update for your Attorney – let your Paralegal know, it is the quickest and most efficient way to update your Attorney and at less expense.
Be proactive on gathering information. If you have not traditionally been in charge of the finances in your household, it's way past time to get involved. Gather copies of all financial statements for the period of time your Attorney believes will be prudent. Gather up tax returns, closing packets from property purchases, other major purchases, evidence of income and retirement accounts.
If there are items you owned prior to your marriage (known as non-marital), make a list of those items and indicate why you believe they are non-marital (i.e., Uncle Joe left me the dining room table when he passed). The best way to create an inventory of your household, especially before it's divided up, is to simply take your cell phone, walk from the basement to the attic, to the garage, barn, shop, etc. and then you have a complete account from which you can make a typed out list.
Also, when you have questions and really need to talk to your Paralegal or Attorney, the best bet is to take a tablet out and just list the questions out and either arrange for a time to call in and go over them or better yet, typed all them out in an email (be sure to copy your Paralegal) and in this manner, the Attorney can respond to all your questions at once. Then, KEEP that email and refer to it as much as you may need to. I have found that after all these years, clients tend to ask repetitive questions – mostly because they are so emotionally charged, it is difficult to retain the answers. Plus, the entire divorce process is so new and foreign – it is easy to get confused.
Be sure to reassure your children that you love them very much (no matter how old they are as statistics show even adult children also suffer the effects of their parents divorcing). Then leave them out of it completely. Do not talk negatively to your children about the other parent, under any circumstance. You will have a much better relationship with them for it later.
Attorneys and Paralegals are here to serve a role and help make the process easier, but we are not mental health care professionals, but we can most assuredly recommend some fine folks to help you in that arena, so don't be hesitate to ask.